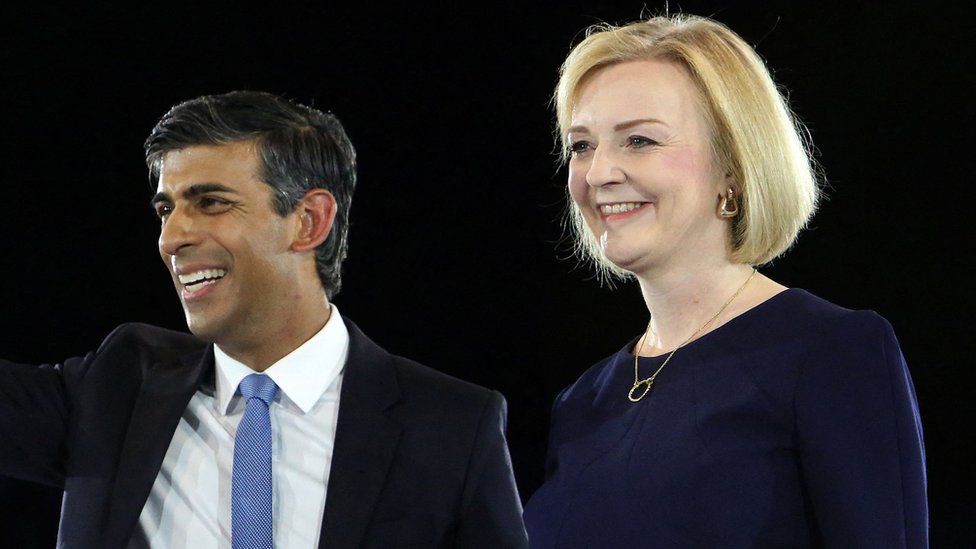 UK foreign secretary Liz Truss on Monday won the Conservative Party leadership contest, beating Rishi Sunak to go on to replace outgoing Prime Minister Boris Johnson – loyalty to whom seems to have gone against the Indian-origin former chancellor in a result that was closer than predicted.
The 47-year-old senior Cabinet minister was widely expected to become Britain's third female Prime Minister after over 170,000 online and postal votes cast by Tory members, ending Sunak's historic run as the first member of Parliament of Indian heritage to compete for the top job at 10 Downing Street.
Truss polled 81,326 votes, compared to Sunak's 60,399 in an election with a high turnout of 82.6 per cent, with 654 rejected ballots from a total of 172,437 eligible Tory voters. It means Truss did win by a comfortable margin, but her victory was slimmer than in other recent Tory leadership contests at 57.4 per cent to Sunak's 42.6 per cent – reflecting a divide within the governing party.
Liz Truss beats Rishi Sunak in Tory leadership race to be new UK PM
Liz Truss defeats Rishi Sunak to become new British Prime Minister
Rishi Sunak loses to Liz Truss, but does better than expected
Rishi Sunak loses to Liz Truss, but does better than expected
Leftists 'celebrate' Rishi Sunak losing the British PM race, use Hinduphobic tweets to mock him for temple visit and Gau Puja
'Unite Behind…': What Rishi Sunak Said After Defeat In British PM Race
Explained: Why Rishi Sunak lost the UK Prime Ministerial race against Liz Truss
Liz Truss or Rishi Sunak to be announced as UK's next PM
Liz Truss becomes new British PM defeating Rishi Sunak
Who is Rishi Sunak: Life, Background, Education and Income