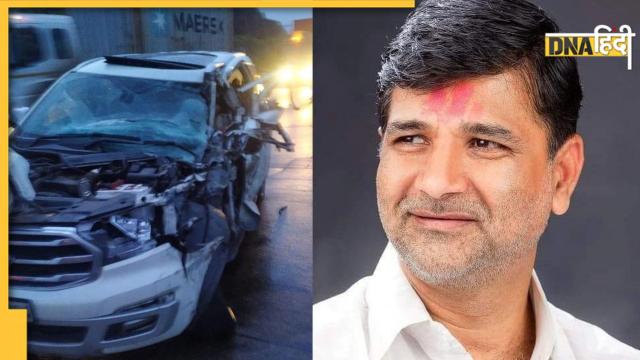 Shiv Sangram Party head Vinayak Mete, 52, lost his life on Sunday morning as his SUV car met with an accident on the Pune-Mumbai express highway. Mete was grievously injured and so was his bodyguard, Ram Dogale, while his driver, Eknath Kadam, suffered minor injuries. Mete had started his journey from Beed on Saturday night and was headed to Mumbai for an important meeting with chief minister Eknath Shinde over the Maratha community reservation issue.
Kadam reportedly said that they got a late response from the authorities on the highway which caused the ambulance to reach the spot nearly an hour late. No sooner the ambulance reached the spot than Mete and Dogale were both taken to MGM (Mahatma Gandhi Mission) hospital in Kamothe, Panvel, where, after checking, doctors declared Mete as 'brought dead'. Whereas Dogale is still undergoing treatment at the hospital.
Ex-MLC Vinayak Mete killed in road accident
Maratha Leader and Ex-MLC Vinayak Mete Dies in Car Crash
Delayed response, help came an hour late, says Vinayak Mete's driver
What caused Vinayak Mete's car crash on the Expressway?
Vinayak Mete: A staunch advocate of empowerment & development of Maratha community is no more
Maratha quota supporter and ex-MLC Vinayak Mete dies in accident on Mumbai-Pune Expressway
Vinayak Mete: मराठा आंदोलन में थी अहम भूमिका, जानिए कौन थे हादसे में जान गंवाने वाले विनायक मेटे
शिव संग्राम नेता विनायक मेटे का निधन
महाराष्ट्र से तीन बार विधायक रहे विनायक मेटे की सड़क दुर्घटना में मौत, पुणे एक्सप्रेसवे पर हुआ हादसा
Maharashtra: तीन बार विधायक रहे विनायक मेटे की सड़क हादसे में मौत, पुणे एक्सप्रेसवे पर हुई दुर्घटना