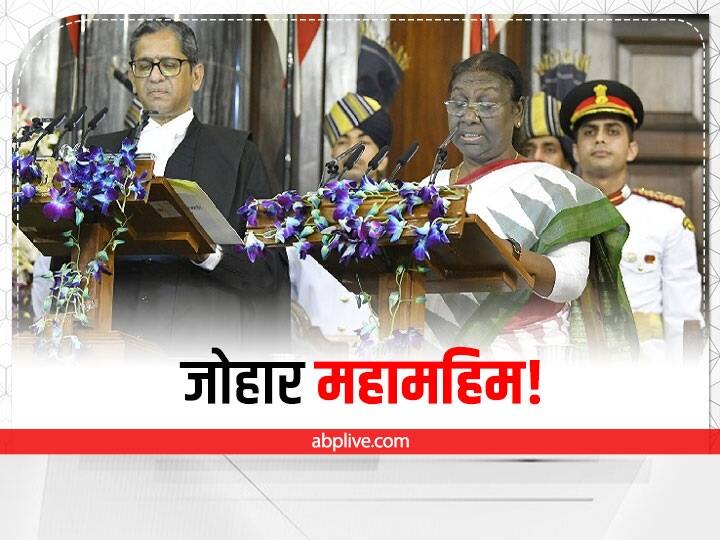 HER election is proof the poor can dream and fulfill them too, India's 15th President and its first tribal head of State Draupadi Murmu said after taking oath of office on Monday, a landmark day that melded tradition with the aspirations of a modern nation.
President Murmu, who is the second woman in the top constitutional post, succeeds Ram Nath Kovind and was sworn in by Chief Justice of India N V Ramana at Parliament's Central Hall. The tribal leader, India's youngest President at 64 and the first to be born after Independence, took oath of office in the name of god to "preserve, protect and defend the Constitution and the law".
"It is the power of India's democracy that a girl born in a poor tribal home could reach the topmost constitutional post," she said in her address, marking her journey from Odisha's Mayurbhanj district, one of the most underdeveloped in India, to the Rashtrapati Bhawan.
Draupadi Murmu:15th President of India Takes the Oath
Draupadi Murmu sworn in as President
Draupadi Murmu: Lesser known facts about the 15th President of India
Draupadi Murmu: द्रौपदी मुर्मू बनीं भारत की राष्ट्रपति, झारखंड में भगवान सूर्य को 11 मन लड्डु का भोग, सुनिए- क्या कहते हैं लोग
Draupadi Murmu: भाई को राष्ट्रपति भवन देखने की चाहत, भाभी अपने हाथ से परोसना चाहती हैं मुर्मू को खाना
'द्रौपदी मेरा असली नाम नहीं…', राष्ट्रपति मुर्मू ने पुराने इंटरव्यू में कही थी ये बातें
Draupadi Murmu: विश्व नेताओं ने दी भारत की नयी राष्ट्रपति द्रौपदी मुर्मू को बधाई
नवनिर्वाचित राष्ट्रपति Draupadi Murmu को CM हेमंत सोरेन ने दी बधाई, कहा- 'जोहार महामहिम!'
Draupadi Murmu: एक नहीं तीन राष्ट्रपति निवास… दिल्ली के बाहर और काफी पुरानी बिल्डिंग,जानें इसकी खूबियां
President Draupadi Murmu : राष्ट्रपति द्रौपदी मुर्मू बोलीं- मो जीवन पछे नर्के पड़ी थाउ, जगत उद्धार हेउ