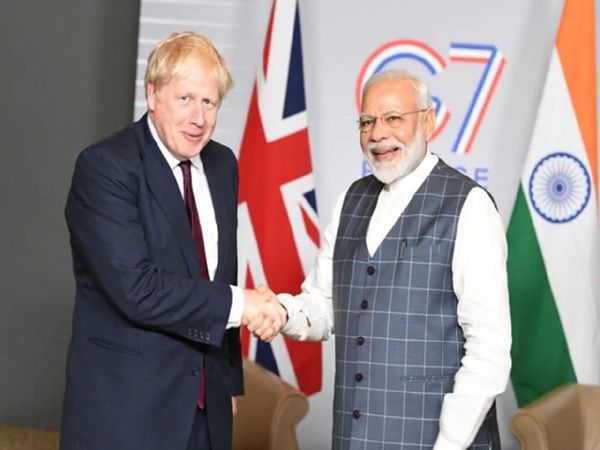 British Prime Minister Boris Johnson will be on his maiden visit to Gujarat on Thursday, April 21. He will later visit Delhi and meet Prime Minister Narendra Modi.
The arrival of the UK's PM is important in terms of business, mainly free trade, the energy sector and defence. On Thursday, PM Johnson will spend his whole day in Gujarat and late evening, after dinner, he will leave for Delhi. Earlier, too, PM Johnson's visit was scheduled to India but due to Covid, the visit was cancelled.
The British PM's visit to India comes amid the Russia-Ukraine war. The UK has openly criticised Moscow and imposed several sanctions. The UK has also sent military aide to Ukraine. PM Johnson himself has visited the war-torn country. On the other hand, India has till now remained neutral, saying diplomatic solution is the key to stop the war.
Boris Johnson India visit live updates: 'Immense privilege…': UK PM after visit to Sabarmati Ashram
Boris Johnson In India Live Updates: Meeting With Gautam Adani, JCB Plant Visit Later
UK PM Boris Johnson in India Live Updates: Boris Johnson arrives in Ahmedabad, deals worth £1 billion on table
UK PM Boris Johnson arrives in Gujarat, begins 2-day India visit
UK PM Boris Johnson's Gujarat visit | Know inside details
Boris Johnson to visit Sabarmati Ashram, Akshardham temple
Boris Johnson India Visit LIVE Updates: ब्रिटेन के PM बोरिस जॉनसन ने चलाया चरखा, वीजा में ढील देने के दिए संकेत
बोरिस जॉनसन का आज से भारत दौरा, यूक्रेन-रूस पर उपदेश नहीं, द्विपक्षीय संबंधों पर रहेगा जोर