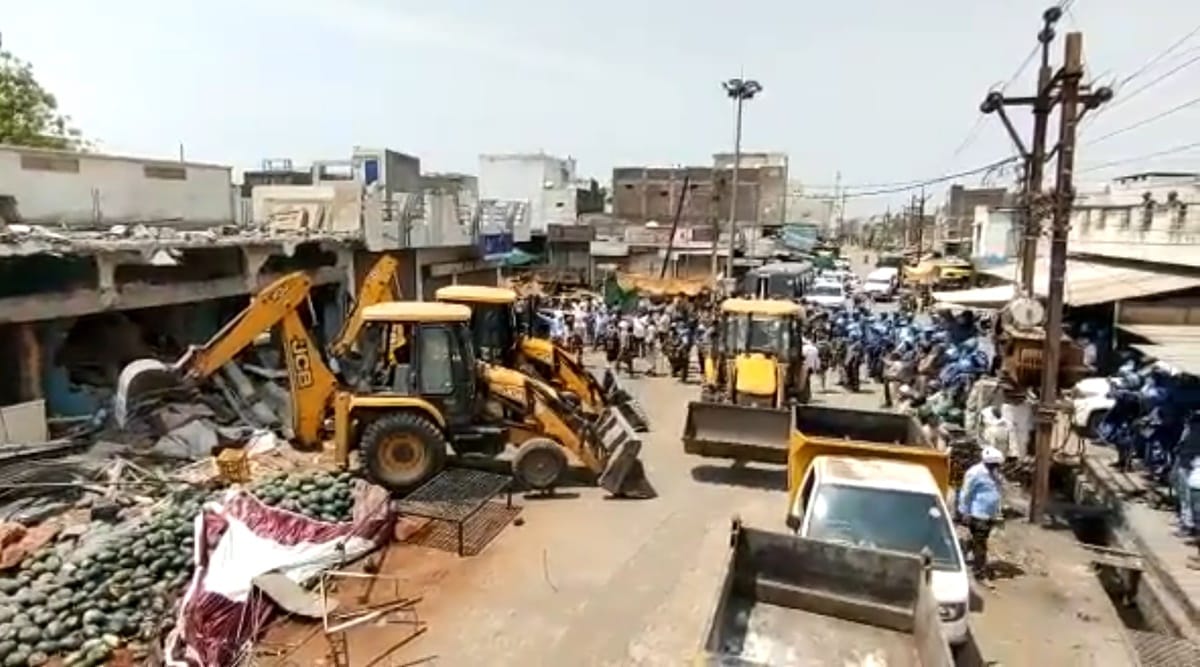 Khargone district administration on Monday started demolition of at least 50 "illegal" structures of people accused of pelting stones at a Ram Navami procession in Khargone town, while the state government said damage caused to public and private properties during the violence will be recovered from rioters.
A curfew was clamped in Khargone town on Sunday and 84 people have been arrested so far after stones hurled at a Ram Navami procession triggered large-scale arson, officials said and added that the situation here was under control.
"The government has a zero tolerance policy for rioting. So far, 84 persons have been arrested and 50 illegal constructions of these accused have been identified. The demolition of these illegal constructions has already started," Indore divisional commissioner Pawan Sharma said.
Madhya Pradesh: Admin demolishes 'illegal' buildings in Khargone after Ram Navami procession clash
MP: Muslims targetted following Ram Navami rally in Khargone
Curfew in Madhya Pradesh's Khargone city after stone pelting at Ram Navami procession triggers arson; 77 arrested
Khargone: A day after Khargone violence, bulldozer rolls over houses of stone pelters
Khargone News खरगोन हिंसा पर सीएम शिवराज सिंह चौहान का बड़ा बयान, बोले- दंगाइयों को बख्शेंगे नहीं, नुकसान की होगी वसूली
MP News: सांप्रदायिक तनाव पर कांग्रेस नेता दिग्विजय सिंह का हमला, बीजेपी नेताओं का पलटवार 
खरगोन दंगा: 45 मकान और दुकानों पर चला बुलडोजर, 84 दंगाई हिरासत में
खरगोन उपद्रव: गृह मंत्री की चेतावनी के बाद चले बुलडोजर, दिन भर शांति रहने के बाद रात करीब 11 बजे रहीमपुरा में पथराव की घटना