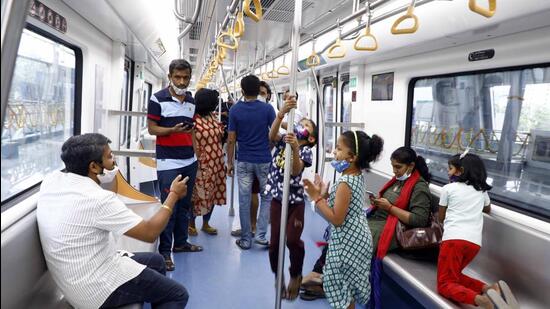 Chanting 'Ganpati Bappa Maurya' and 'Chhatrapati Shivaji Maharaj Ki Jai', Punekars boarded their first Metro ride at 3:22 pm, minutes after Prime Minister Narendra Modi inaugurated the facility.
Many felt a jerk as the Metro started from Garware to Vanaz, the 5-km priority stretch.
"Hurrah! Metro finally arrived in Pune," said Bibushan Chole, who is happy that he will not have to use PMPML now to travel between Vanaz and Garware.
Your Space: Demand for new routes, student discount offers in Pune Metro
Pune Metro arrives with hope of hassle-free public transport
PM inaugurates Pune Metro, claims projects never saw light of day during erstwhile governments
PM Modi to launch Pune metro rail project today
PM Modi inaugurates Rs 11,400 crore-worth Pune Metro, takes joy ride with 'young friends': Check route, timings, fare here
PM Narendra Modi flags off Pune Metro, says mass transport way forward for urban India