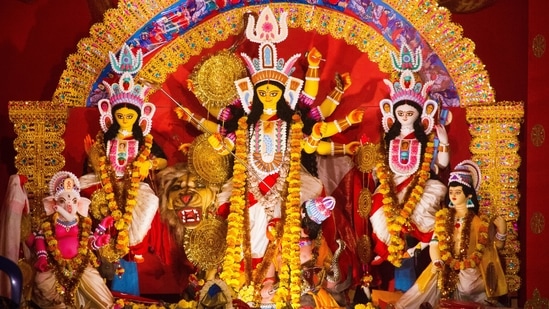 Mahalaya 2021: As per the Hindu Calendar, Mahalaya is celebrated by the devotees of Maa Durga a week before Durga Puja celebrations begin. Mahalaya is marked on the last day of Pitru Paksha which is being observed today, on October 6 this year. It is celebrated in the states of Karnataka, Odisha, Tripura, and West Bengal. It is believed in the Hindu Mythology that Goddess Durga was created on this day by Brahma, Vishnu, and Maheswar to defeat the demon king Mahishasura. Therefore, devotees mark this day as the arrival of Goddess Durga to Earth from Kailash Parvat with her divine powers. On the day of Mahalaya, the sculptors only make Goddess Durga's eyes and fill colours in them. They also perform a special puja before this.
Mahalaya 2021: All you need to know about the history, significance and date
Mahalaya 2021: What is the Significance of Chandipath in West Bengal?
Shubho Mahalaya 2021 wishes and images: Spread joy by sharing these messages and quotes with loved ones
Mahalaya 2021: History, significance and date
Happy Mahalaya 2021: WhatsApp wishes, status, Facebook quotes and messages