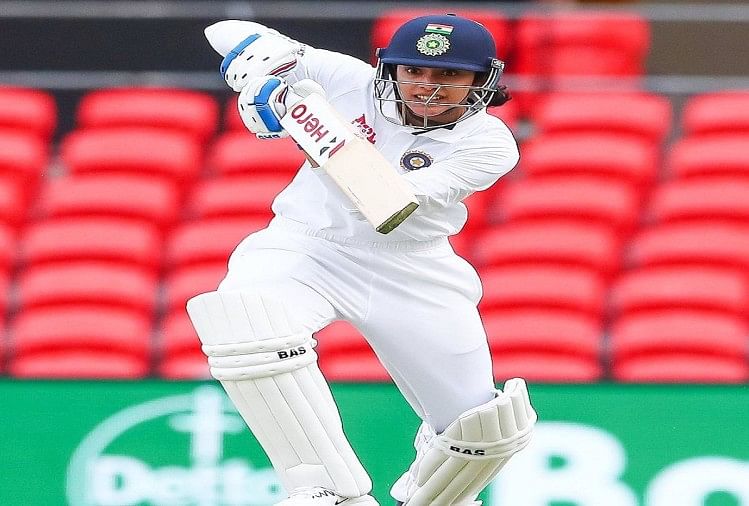 Smriti Mandhana, arguably the most prolific Indian cricketer in the women's spectrum, reached a new milestone on Friday as she became the first Indian woman to score a Test hundred in pink-ball cricket. The historic century was also the first in the career of Mandhana who had never reached the triple-digit figure in the longest format before.
Smriti, who also wears the No. 18 like Virat Kohli, matched her male counterpart in the process. Earlier, Kohli had become the first Indian cricketer in the men's game to have scored a hundred in pink-ball Test, doing so against Bangladesh at the Eden Gardens.
It is the first-ever occasion for the Indian women to be playing a Test match under the lights. As a matter of fact, this is also only the second pink-ball Test to have ever been played in women's cricket.
Smriti Mandhana becomes first Indian woman to score ton in D/N Test
India vs Australia W: Smriti Mandhana hits maiden hundred, becomes 1st Indian woman centurion in Pink-ball Test
Pink Ball Test: Smriti Mandhana sizzles on Day 1
'Goddess of off-side': Twitter on fire after Smriti Mandhana shatters records with historic Test hundred vs Australia
Smriti Mandhana lights up rainy day
INDW vs AUSW: स्मृति मंधाना का ऐतिहासिक शतक, विराट के बाद ऐसा करने वाली दूसरी भारतीय बनीं
Smriti Mandhana ने किया कमाल, डे-नाइट टेस्ट में शतक लगाने वाली भारत की पहली क्रिकेटर बनी
INDW vs AUSW: स्मृति मंधाना ने शतक जड़ रचा इतिहास, यह उपलब्धि हासिल करने वाली भारत की पहली महिला क्रिकेटर