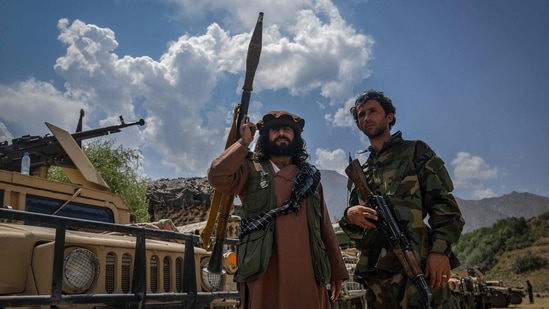 The Taliban on Monday surrounded the resistance forces in Afghanistan's Panjshir Valley, they said, however added that they are looking to negotiate instead of taking up the fight with them.
Some Pro-Taliban social media accounts claimed that militant gunmen were gathering while Afghanistan's former vice president said resistance forces were holding strong.
Taliban fighters "are stationed near Panjshir", spokesman Zabihullah Mujahid said on Twitter that they had the area surrounded on three sides. "The Islamic Emirate is trying to resolve this issue peacefully," he added.
Panjshir, Afghanistan's valley of resistance, remains a challenge for Taliban
Taliban says hundreds of fighters heading to Panjshir to take control
Negotiate, Taliban tell Panjshir leader
Afghanistan crisis: Taliban advances on resistance stronghold Panjshir Valley
Afghanistan resistance force 'besieged' in Panjshir Valley, Taliban seek talks
पंजशीर में जंग तेज, अफगान लड़ाकों ने तालिबान को ऐसे जाल में फंसाया, 300 तालिबानी ढेर
मसूद ने तालिबान को दिखाई ताकत: पंजशीर विद्रोहियों ने 300 लड़ाकों को उतारा मौत के घाट, आतंकी संगठन का इनकार
पंजशीर पर बड़े हमले की तैयारी में तालिबान
पंजशीर में होगा अफगानिस्तान के भविष्य का फैसला? पहुुंचा तालिबान, सालेह बोले- तुम्हें देख लेंगे
VIDEO: पंजशीर के शेरों ने जोरदार धमाके से किया तालिबान का स्‍वागत? धुआं-धुआं कर डाला