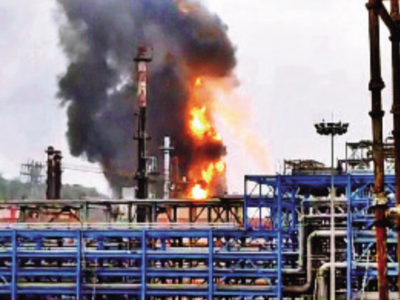 A major fire broke out due to a blast in one of the refineries of Hindustan Petroleum Corporation Limited (HPCL) in Andhra Pradesh's Visakhapatnam on Tuesday afternoon, HT has learnt.
An HPCL spokesman said the fire broke out in one of the crude processing units of the HPCL at around 3 pm. "Safety measures and firefighting was activated immediately and fire has been extinguished," he said.
Stating that the cooling operations had been taken up, the spokesman said there were no casualties in the mishap and there was no risk to the public. "The other refinery operations are continuing as normal," he added.
Major fire breaks out at HPCL plant in Visakhapatnam, none hurt
Major fire breaks out at HPCL refinery in Vizag, no casualties reported
Fire mishap averted at Hindustan Petroleum Corporation Limited refinery in Vizag
Major fire breaks out at HPCL Visakhapatnam plant
Fire at HPCL refinery in Visakhapatnam doused out; no casualty, risk to public: HPCL
Andhra Pradesh: Fire at HPCL Plant in Visakhapatnam, No Injuries Reported
आंध्र प्रदेश में भीषण आग:​​​​​​​विशाखापत्तनम में HPCL के प्लांट में लगी आग बुझाई गई, पूरा स्टाफ सुरक्षित
Fire in HPCL Plant: एचपीसीएल प्लांट में लगी आग में 6 वर्कर्स फंसे, मौके पर पहुंची दमकल की गाड़ियां