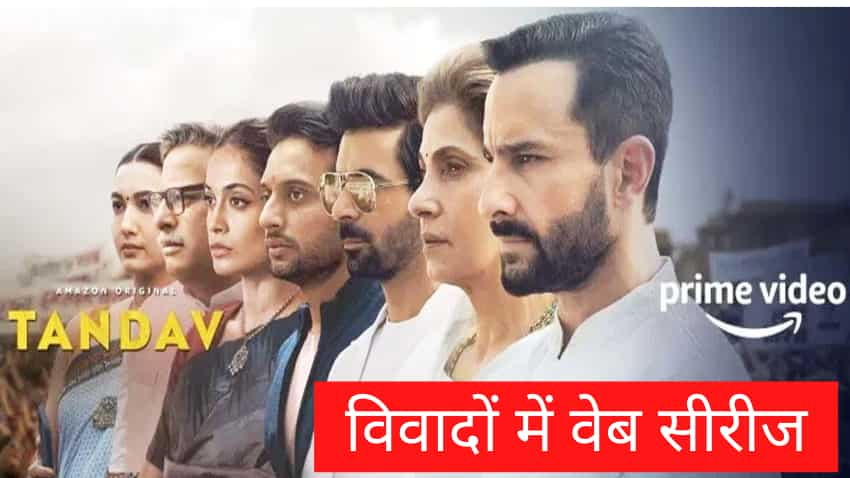 Taking cognizance of complaints that Hindu gods and goddesses have been ridiculed in web series Tandav, the Ministry of Information and Broadcasting on Sunday sought an explanation from streaming platform Amazon Prime Video on the issue, sources said.
The development came after BJP MP Manoj Kotak on Sunday said he has written to Information and Broadcasting Minister Prakash Javadekar seeking a ban on Amazon Prime Video's series Tandav for ridiculing Hindu deities.
Tandav, starring actors Saif Ali Khan, Dimple Kapadia, Sunil Grover, Tigmanshu Dhulia, Dino Morea, Kumud Mishra, Mohd Zeeshan Ayyub, Gauhar Khan and Kritika Kamra, premiered on the streaming platform on Friday.
Tandav controversy | I&B Ministry seeks explanation from Amazon Prime Video
Tandav controversy: FIR filed against web series aired on Amazon Prime over promoting religious enmity
'Tandav' controversy: I&B Ministry summons Amazon Prime Video officials
I&B ministry summons Amazon Prime India officials after controversy over Tandav
Tandav Controversy: Amazon Prime Gets I&B Ministry's Notice After Protests Erupt Over 'Mocking Hindu Deities'
Tandav: BJP MLA Ram Kadam Demands Scene To Be Deleted, Files Complaint For Hurting Hindu Sentiments
वेब सीरीज 'Tandav' पर विवाद और गरमाया, सरकार ने अब अमेजन प्राइम वीडियो को भेजा नोटिस
Tandav Controversy : सैफ अली खान की वेब सीरीज पर क्यों हो रहा 'तांडव', सरकार तक पहुंची बात, जानें पूरा मामला
'तांडव' पर जारी है विवाद: भाजपा सांसद ने जावड़ेकर को लिखा पत्र तो विधायक ने दर्ज कराई शिकायत
Tandav Controversy: सरकार ने Amazon Prime से मांगा जवाब, सैफ-करीना के घर पुलिस का पहरा