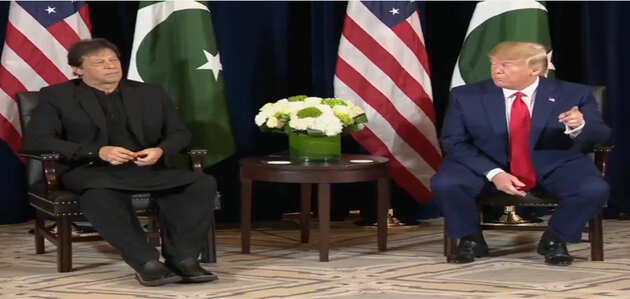 With Pakistan Prime Minister Imran Khan sitting beside him, US President Donald Trump praised PM Narendra Modi and the gala event of 'Howdy, Modi' that he addressed along with the PM.
Addressing the media after meeting Imran Khan, Trump praised the 'Howdy, Modi' mega rally in presence of Khan and said PM Modi made "very aggressive statements" at the Houston event and the huge crowd of Indian-Americans received them well.
"It was very well received within the room," Trump said, referring to the gathering of 50,000 people at the NRG Stadium in Houston.
Modi made aggressive remarks, was well-received by 50,000, says Trump with Imran Khan beside
Trump, With Imran Khan By His Side, Offers J&K Mediation For Third Time
Pakistan should have remained neutral after 9/11, committed blunder going after terror groups: Imran Khan
Joining US after 9/11 one of Pakistan's biggest blunders, says Imran Khan
PM Imran Khan admits Pakistani army and ISI trained al-Qaida
Imran Khan says he will raise Kashmir issue with UN leaders
इमरान ने ट्रंप के सामने अलापा कश्मीर राग, अमेरिकी राष्ट्रपति ने कहा- भारत से हमारे अच्छे संबंध
इमरान खान की मौजूदगी में ट्रंप ने की 'हाउडी मोदी' की तारीफ, कहा- मिला अच्छा समर्थन
आतंक पर इमरान खान का सबसे बड़ा कबूलनामा, अमेरिका में एक इंटरव्यू के दौरान दिया यह बड़ा बयान
कश्मीर पर पाकिस्तान पत्रकार की चापलूसी, ट्रंप ने इमरान से पूछा, ऐसे पत्रकार लाते कहां से हो?